Full Day Bike & Wine Concha Y Toro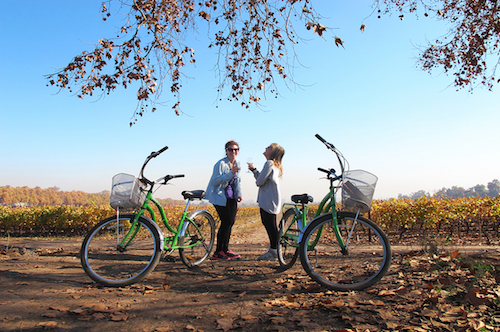 Duración: 7 Horas (aproximadamente)
Ubicación: Santiago
Código de producto: FDB&WCyT
Wander 50 minutes south of Santiago to discover Chile's most famous wine valley, Maipo, and then Chile's most famous vineyard, Concha y Toro, all of this amongst hidden roads connecting boutique wineries to mansions, farms, and the Andean Mountains. This will be your day in Pirque with La Bicicleta Verde.
Pirque's history is back by Pre-Columbian local tribes, and its more modern one can be tied to the Spanish aristocrats dividing up the land amongst its nobility. But the landscape and traditions makes it famous for both international visitors and locals alike. Sitting in the middle of the Maipo Valley, Pirque happens to be very fertile, protected by the foothills of the mountain range on the east, south, and west. It has only 1 true northern border, the Maipo River, separating it from the city of Santiago. If you enjoy wine, this is God's country, and if you appreciate local farmers riding their bikes, saluting fellow neighbors, you will know that God has worked hard to protect this isolated location, preserving its traditions and lifestyle, rural, peaceful, and picturesque.
We believe a mix of elegance, human artitecture, humility, human connection, and legs, both biking and red wine stretching across our wine glasses, make this full day outing exception and unforgettable. See our 3 big highlights detailed below.