Full Day Bike Tour // Tour en Bicicleta de Día Completo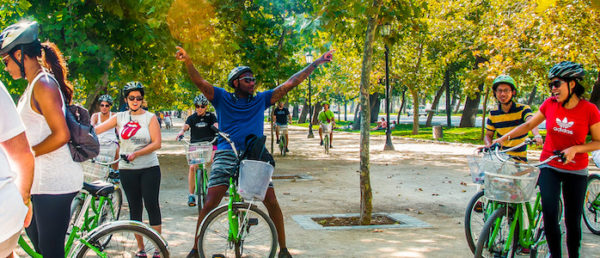 Duration: 7 Hours (approx.)
Location: Santiago
Product code: PDXQ7Y
This is a perfect combination of our morning Local Life & Markets and afternoon Parks & Politics tours. Both of them together give a wide glimpse of the culture and recent history of Santiago and Chile, taking you to the less touristy areas of the city, the most bohemian and artistic streets, and colourful markets. You will even get to walk the corridors of the building that was for one generation the symbol of Chilean socialism, and for another, a symbol of repression and by visiting these places, you will learn about the events that have formed Chile today.
Una combinación perfecta de nuestro tour de la mañana Vida Local y mercado y el de la tarde Parques y Política. Entre ambos nos darán un amplia visión de la cultura y de la historia reciente de Santiago y Chile. Visitarás las áreas menos turísticas de la ciudad, pedaleando en las calles más bohemias y con más arte de nuestra ciudad, hasta los mercados llenos de olores y colores, para luego enseñarte los eventos que llevaron a Chile lo que es hoy. Caminarás por los pasillos de un famoso edificio que contradictoriamente fue el símbolo del socialismo y de la dictadura en Chile.
Schedule
9:15 am Meeting in our office at Loreto 6, Recoleta.
9:30 am Departure to Bellavista Neighbourhood, a centre for street art and nightlife with its many restaurants, discotheques, bars and so much more. Then an introduction to the famous and controversial poet Pablo Neruda, followed by information about the world's fourth largest Metropolitan park and how you can enjoy it best. We continue through the bustling commercial neighbourhood of Patronato and entering the noisy and colourful markets. After a nice and quiet ride through the park back to our office, we will give you the best tips where to lunch.
12:30 pm Lunch time
2:15 pm Meeting in our office at Loreto 6, Recoleta.
2:30 pm The next adventure starts by riding through three of the dozens of parks we have in Santiago. You will be introduced to the way Santiaguinos relate with parks and to how young people make use of them. After this green ride, we will visit a magnificent Cultural Centre, that once was the symbol of socialism in Chile and later turned into symbol of the Pinochet dictatorship. After learning about the facts and events that led to the military coup, you'll ride downtown to Government Palace, where you'll get all the details on how the military took over the government, what happened during the dictatorship, and the repercussions for contemporary Chilean society. Afterwards, you'll come back to the office using one of the numerous bike trails in the city.
5:30 pm. Back to the office. End of tour.
Itinerario
9:15 am Encuentro en nuestra oficina en Loreto 6, Recoleta.
9:30 am Salida hacia el Barrio Bellavista, centro artístico y bohemio con sus muchos restaurantes, discotecas, bares y galerías de arte. Sabremos sobre el famoso poeta Pablo Neruda y las controversias que causa hasta el día de hoy. El cuarto parque más grande del mundo y cómo sacarle el mejor provecho en el menor tiempo posible, será nuestra próxima parada. De ahí seguiremos a través del siempre bullente barrio comercial Patronato para llegar a Los caóticos y coloridos mercados. Luego, pedalearemos tranquilamente por el parque para llegar de regreso a nuestra oficina donde te entregaremos los mejores datos para almorzar.
12:30 pm Almuerzo

2:15 pm Encuentro en nuestra oficina en Loreto 6, Recoleta.
2:30 pm La siguiente aventura comienza pedaleando por tres de los muchos parques que tenemos en Santiago. Te contaremos como los santiaguinos se relacionan con los parques y como es que los jóvenes los han convertido en sus lugares de encuentro. Luego de esta pedaleada verde, visitaremos un maravilloso Centro Cultural que fuera otrora el símbolo del socialismo en Chile, para luego convertirse en el ícono de la dictadura de Pinochet. Luego de enterarnos de los hechos y eventos que llevaron al golpe militar, pedalearemos por el centro de la ciudad hasta el Palacio Presidencial donde te daremos todos los detalles de cómo ocurrió el golpe militar, que sucedió durante la dictadura y las repercusiones que ha tenido en la sociedad chilena contemporánea. Volveremos a nuestra oficina usando una de las tantas ciclovías con que cuenta la ciudad.
5:30 pm. Back to the office. End of tour. Regreso a la oficina. Fin del tour.


Included / Incluye
Green Bike / Bicicleta Verde
Water bottle / Botella de agua
Helmet / Casco
Refreshments / Merienda
Bilingual tour guide / Guía bilingüe
Not Included / No incluye
Lunch / Almuerzo
Tips / Propinas
Any Extra / Cualquier extra
Insurance / Seguro